Offering a little help to children home schooling during this difficult time
As schools remain closed and families continue to struggle to support their children with home online learning, Charities are stepping in to help schools by donating resources.
Fusion Maidstone (a local charity) in Park Wood, is pleased to donate 10 brand new Fire 7 tablets to Tree Tops Primary Academy thanks to funding from KCC Councillor Gary Cooke. Tracey Elmore, Fusion's Chief Officer said "We are committed to working in partnership with our local schools and county council to support families struggling at this time. Supporting children with education is key and an important foundation for success, we are very happy to help during this difficult time".
Tree Tops Primary Academy provides a broad and balanced curriculum and all students are given every opportunity to develop to their full potential, intellectually, spiritually and emotionally. Tanya Shaw, Pastoral and Learning Support Manager said "This is fantastic, we are looking at supporting our families with children in year 2 and this will help tremendously. Once schools are back to normal, the tablets will be used in our reference library."
Every year Kent County Council help community projects across Kent by using members grants to fund them, Gary Cooke said "Supporting local schools in the South East of Maidstone has always been and will always be a key priority of mine as the County Councillor, so I was delighted to be able to fund the purchase of these tablets for the use of pupils at Tree Tops in Park Wood.  At a very difficult time for schools and their pupils – tablets such as these will provide much needed assistance to the pupils in their learning."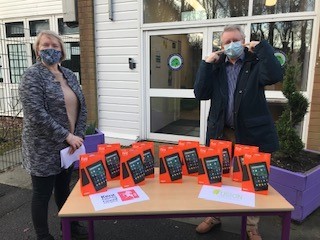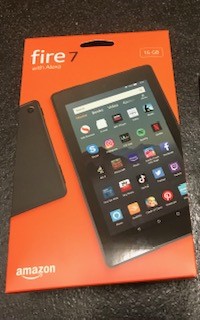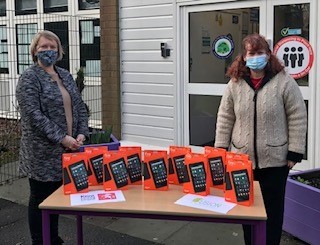 Fusion Maidstone, a local charity based in the heart of Park Wood since 2003, provides various health and wellbeing services along with social support for the residents in the area and the wider community. If you need support please contact Fusion on 01622 691177 and we will be happy to help you. For more information about Fusion and what we do please visit our website www.fusionhlc.org.uk